ePIPE technology is proven to save time and minimise cost
The customer is at the heart of the ePIPE process. Not only is the process quick and efficient, preventing the cost and disruption associated with pipe replacement, it can also be applied to the full length of a service pipe from the water main in the street to the customer's tap.

Not only does it provide a better outcome for the customer, it also provides a better customer experience. The process is quick, efficient and customer friendy.
---
How it works…
Isolate and drain the service pipework
Clean the service pipe internal walls
Warm the service pipe to dry and optimise application
Apply the ePIPE resin with blown-in-place technology
Cure with warm air
Cure with hot water
Inspect, test, flush and recommission
The resin is blown along the inside surface of the pipework. With no mechanical devices inserted into the pipe, the resin simply follows the air stream.
Complex configurations of pipework containing restrictions, bends and tees can be lined from convenient positions. Special adaptors at the boundary box or internal stop tap also prevents the need for additional excavations or internal plumbing.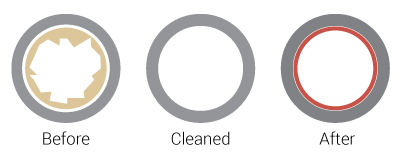 CONTACT US
Innovative Technology